Rajasthan is a fairy tale destination of India. As it literally means to be a land of kings, this state is blessed by a royal touch.The beautiful forts, sand dunes and the colorful people of this state is not only the reason to travel here but this place offers a lot more than any one can imagine. Rajasthani cuisine and the welcoming nature of this royal state is well known. If you are travelling to India then without visiting Rajasthan tour journey will be incomplete. This place offers such a beautiful experience which could not be imagined by anyone. The unending magic of this state is beyond any comparison. As this state was ruled by the rajput kings who fought for their pride and self esteem this heritage of tradition and pride is still dwelling in this state.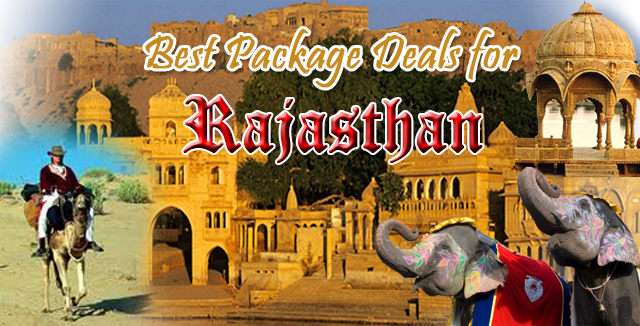 Whether you are seeking for joy or peaceful interaction with nature everything is just found here. All the cities here are well planned and welcoming. The nature of the people is very kind and they are ready to help the visitors. The loving nature of the people is also seen in the food as well. Rajasthani cuisine is something which shouldn't be missed as the flavors are just with every dish which is made here. They serve you with a number of dishes which will in itself make you feel all the more special. The kind gesture of the people of Rajasthan will make you smile and your worries will seem to be gone forever. The more you know about Rajasthan the more you will want to know about it. It's a never ending story of this beautiful place. The royalty of this state could be well experienced by staying in the palaces which are now turned into hotels.
The colors of this state is so much inspiring that it never get old in the trend setting industry. Many fashion designers visit this place to get inspiration for creating latest trends. This place is a big industry for fabric or we can say a good raw material can be get from here for fabric designing. The bright hues of festivals is seen all the year round in this place and each and every celebration is done with full joy and enthusiasm. Beautiful handicraft and fine art is well preserved here and even the government promote this local art. The folk songs and the dance form is well loved by all.
Best time to visit is from october to march as the climate here is not too hot or too cold during this time of the year. Not to forget to see the wildlife here as it is home to few fascinating sanctuaries. Being traditionally rich in handloom shopping here is always a delightful experience. The semi precious and precious stones are in abundance here and some of the exclusive jewellery can be purchased here. Not only these things attract travellers on India Tour packages but also the painting here is something out of the box and having a very special place in the history of painting.